E-ARC - Edentulism & Anodontia Research Centre
Mission
To study the basic mechanisms of sequel of tooth loss,
To study the cause and effect of tooth loss, the diagnostic and treatment modalities,
To perform original research, which will improve the ability to understand, recognize and treat the various edentulous situations.
To conduct several continuing dental education programmes for the research scholars, the scientific community, and for post-graduate students in the dental fraternity.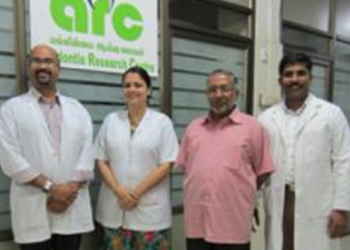 The e-ARC aims to support a wide range of clinical research projects with emphasis on new therapies and diagnostic intervention for the treatment of tooth loss and subsequent functional deficit. The centre operates under the ethical guidelines for good clinical practice to increase the interest by dental professionals and the post-graduate students to conduct dental clinical research in the campus.
This centre is comprised of research scholars who are trained in various arenas of prosthodontics, among other disciplines. The Lab also enrols Ph.D. scholars, and trains future academic dentists for dental school faculties.
PROJECTS CONDUCTED IN e-ARC
Comparative evaluation of the three different surface treatments- conventional, laser and nano technology methods in enhancing the surface characteristics of commercially pure titanium discs and their effects on cell adhesion - an in vitro study
A comparative study to evaluate the osteoblastic cell behavior of two nano coated titanium surfaces with nafion stabilized membrane.
Edentulism & public awareness- a cross sectional study
Thermograpy as a diagnostic tool in complete denture wearers
Parallelism between ala tragal line & occlusal plane
Study to evaluate the depth of curve of spee among various dental occlusion
Study to evaluate rugae as a guide to determine anterior tooth position
Study to evaluate the correlation between arch form & facial form.
Study to evaluate the correlation between antero-posterior curve & condylar guidance- A cross sectional study.
Comparative study to evaluate osteoblastic cell activity on hydroxyl apatite and vitamin D coated titanium disc.
In vitro study of comparison of retentive forces of luting agents on titanium abutments under simulated masticatory forces
Comparative study to evaluate shear bond strength on two different types of zirconia
Assessment of available restorative space in mandibular arches for implant assisted dentures using CBCT- A Invivo study
Comparison of magnification between opg & cbct
Self perceived need for dental care- an epidemiological study
Biomarkers in healthy gingiva
Activities:
Lecture by Dr. T.V. Padmanabhan Prof and HOD, Dept. of Prosthodontics, Faculty of Dental Sciences (Sri Ramachandra University), Past President, Indian Prosthodontic Society and President Asian Academy of Prosthodontics and Dr. Sanjna Nayar Prof and HOD, Dept. of Prosthodontics, Sree Balaji Dental College and Hospitals, followed by a CDE programme on "Immediate implant placement" and loading protocol- co-ordinated by Dr. Sanjna Nayar and Dr. T.V. Padmanabhan, - 15th Feb 2012.
A free Dental Camp was conducted on 24th February 2012 in Velachery.
A two day workshop on "Balanced occlusion in complete denture" conducted in association with E-ARC by Dr.Chandrasekar Nair. A renowned Professor and National Speaker, on 8th and 9thMarch 2012.
Study about "Prevalence of Edentulousness and awareness of treatment options" being conducted and continued with more than 1000 patients in the department.
Thermography as a diagnostic tool in completely edentulous patients .
A patient with bilateral cleft lip and palate treated with precision attachments and telescopic copings retained removable prosthesis.
12th Prosthodontic PG CDE Programme, 3rd February, 2014- Speaker Dr Vinod Krishnan, Topic : IMPLANT PROTECTIVE OCCLUSION – AN OVERVIEW.
1st National level Prosthodontic Forum for Undergraduates _ PROFORM 2014, 12th February,2014.