The Department of Periodontics
The Department of Periodontics provides didactic and clinic instruction in Periodontology at the Undergraduate and the Post Graduatel levels. The department also provides instruction via continuing dental education courses to practicing dentists. The training is adjusted to the level of competency of the student. The clinical areas of instruction include periodontal examination, diagnosis, treatment planning, case presentation and communication, therapies, and outcome assessments in otherwise healthy as well as medically compromised patients.
The didactic areas of instruction include the normal periodontium at the macro and microscopic level, periodontal pathology including intra-oral lesions associated with periodontal conditions, periodontal microbiology and immunology, pain control and pharmacology applicable to periodontal treatments, cell biology, wound healing including periodontal regeneration, dental implantology, case management, epidemiology and statistics in Periodontology.
Research methodology is primarily taught to students. Faculty members are actively participating in basic and applied sciences research and provide students instruction and guidance in research. The current primary areas of research include, but are not limited to, studies of cellular and humoral immunity in periodontal disease, the microbiology of the periodontal infection, periodontal regeneration, implant procedures and outcome assessments, periodontal diagnostics, infections in the periodontium, and epidemiology.
Facilities Available:
Our department is equipped with state of the art facilities such as Laser and Electrocautery along with the fully equipped and functional Minor OT: for minor special cases to be done by staff. We provide following treatment facilities to the patients:
Scaling and root planing
Gingival curettage
Local drug delivery
Tooth splinting
Gingivectomy
Minor surgeries as abscess drainage and frenectomy
Special Facilities-
Periodontal Flap surgery
Periodontal esthetic/plastic surgery
Regenerative Procedure
Laser Surgeries
Surgeries using Electrocautery
Implant surgeries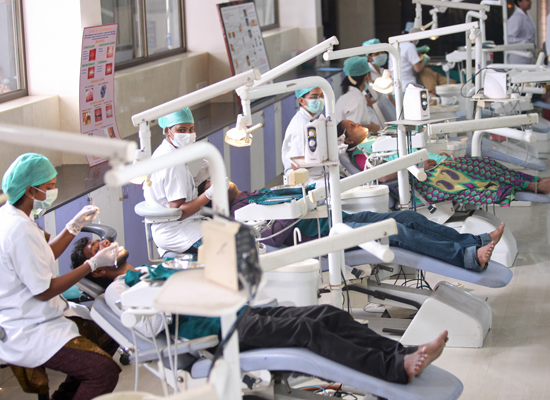 Apart from routine clinical cases here patients are motivated and educated to keep good oral hygiene. Regular recall/maintenance appointments are given to them for the revaluation of the overall oral condition.