The Department of Oral Medicine & Radiology
The Department of Oral Medicine and Dento Maxillofacial Radiology is primarily involved in the diagnosis of all the dental/oral and paraoral diseases in a systematic manner and its medical management. The department actively caters to the needs of all the patients who need intra oral and extraoral radiographs for diagnostic purpose.
Medically compromised patients seeking dental treatments are evaluated and discussed with the physicians if needed. There is a special focus on patients having chronic usage of habits like tobacco, betel nut etc, where they are examined to diagnose early signs of oral precancer/cancer and evolve treatment immediately to improve the longevity and quality of life and also prevent it. In addition to this, orofacial pain including temporomandibular joint disorders, salivary gland disorders and a range of oral ulcers are appropriately diagnosed, investigated and treated medically.
The Dentomaxillo facial Radiology, which is a part of this speciality plays a significant role in the radiodiagnosis of various dental/oral and paraoral diseases with its state of the art equipments like radiovisiography, digital panoramic/extraoral radiography equipments.
Department of Oral Medicine is involved in patient care, teaching and research involving diagnosis and nonsurgical management of diseases of the Orofacial complex and systemic and behavioral disorders that impact oral health, including:
Orofacial pain, including temporomandibular disorders (TMD)
Neurosensory and motor disorders
Mucosal diseases
Oral cancer and complications of cancer therapy
Dental care for patients with disabilities
Salivary dysfunction
Oral complications of systemic illnesses
Craniofacial imaging and other diagnostics
Dental urgent care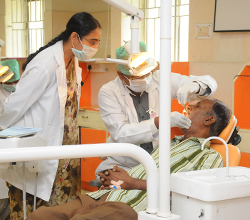 Our department is equipped with state of the art facilities as RVG, 300 mA whole body X-ray unit, Digital OPG and Cephalometric Unit with digital printer and spacious dark room for manual processing. We provide diagnosis and medical management of following conditions:
Oral mucosal lesions
Oral manifestations of systemic diseases
Potentially malignant disorders
Oral manifestations of HIV
Salivary gland disorders
TMJ disorders
Orofacial Pain
Special Facilities-
Advanced imaging facilities including Digital Radiography (RVG)
Digital Orthopantomography (OPG) with cephalometry.
Whole body radiography with 300 mA machine TENS therapy