The Department of Orthodontics & Dentofacial Orthopedics
Mission
The mission of the Department of Orthodontics and Dentofacial Orthopedics is to impart high quality education and dispense high end treatment in the specialty of Orthodontics in an ethical manner with Interdisciplinary Team Approach especially for the Rural & Semi urban population.
Scope
To develop an attitude to adopt Ethical Principles in all aspects of Orthodontic practice.
To Diagnose and Plan Treatment with high end Diagnostic aids.
Impart training in the treatment of various types of malocclusions including dentofacial disorders and Craniofacial anomalies including cleft lip and palate and other congenital deformities.
To give adequate priority to recent advances like Lingual Orthodontics , Micro-Implants, Orthognathic Surgeries and Distraction Osteogenesis among others and in the use of state of the art Orthodontic Materials and Equipment.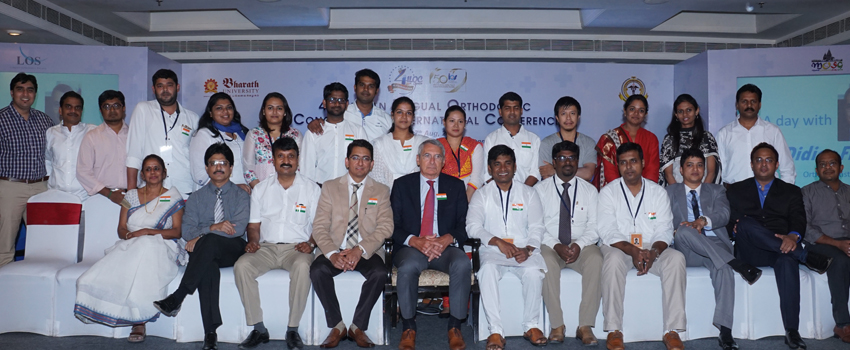 Objectives
To lay foundation of basic knowledge and assimilate associated orthodontic skills to enable students to Diagnose and Treat various Orthodontic problems.
To have a systematic understanding of the dynamic interaction of Biologic processes and Mechanical forces acting on the Stomatognathic system during Orthodontic treatment.
To have a thorough understanding of the Etiology, Patho-physiology and subsequently accurate Diagnosis and Treatment planning of various Orthodontic problems
To have an understanding of the interactions of Social, Cultural, Economic, Genetic and Environmental factors and their relevance in the management of Orofacial Deformities.
To give adequate priorities to Infection Control and safe disposal of hospital waste so as to prevent cross infections
Facilities
Spread across a vast area of 12000 sq ft , the newly refurbished fully air conditioned state of the art department is the pride of the the college.
Interdisciplinary Support
The Department of Orthodontics has a close working relationship with all the other specialities, especially the Department of Oral and Maxillofacial surgery. Multi disciplinary Clinico-Pathologic Conferences (CPC) are held regularly in association with other departments.
Academic Activity
Undergraduate Training Programme
Highlights of the under graduate training programme are:
Faculties are allotted Theory/Practical classes and clinicals.
Multimedia Presentations are used extensively for theory classes. This helps in better understanding of the concepts and at the same time makes learning an enjoyable experience.
There is a One to one interaction and discussions with the students during Practical classes and clinical postings.
Practical demonstrations are given for various techniques and procedures like wire bending, acrylization etc.
The department library has most of the latest Orthodontic books, Journals & Periodicals for ready reference.
At periodic intervals there is Personal Counseling of students by senior staff members.
Postgraduate Training Programme
The Post Graduates are exposed to a vast number of clinical cases with various types of Dentofacial disorders.
The training modules comprise of very basic to most advanced Orthodontic Techniques and Mechanics
There is a lot of emphasis on maintenance of up to date records for each case.
A comprehensive Library Dissertation (L.D.) has to be compiled and submitted to the Department before starting work on the Dissertations. The department has regular Multi-media Seminar Presentations, Journal Clubs and Case discussions.(5 days a week)
The department maintains a state of the art record storage room with a vast collection of more than 800 finished cases, which are constantly used for research and training purposes.
Subsidiary Units
Surgical Orthodontic Unit.
Growth Modulation and Myofunctional Unit.
Temporomandibular Joint disorders clinic.
Satellite and Rural Centres.
Areas Of Special Interest
Growth Modulations
Cleft Lip And Palate Management
Lingual Orthodontics
Distraction Osteogenesis
Orthodontic Implants